North Central Arkansas is one of my favorite regions in the state.
Northwest Arkansas might get all the attention for its beauty, but North Central Arkansas is also lovely.
Unlike Central Arkansas there are no major highways in this part of the state and no major cities. I think that this is one of this area's charms.
In North Central Arkansas you will find beautiful rivers and lakes, world class fishing, and quaint small towns.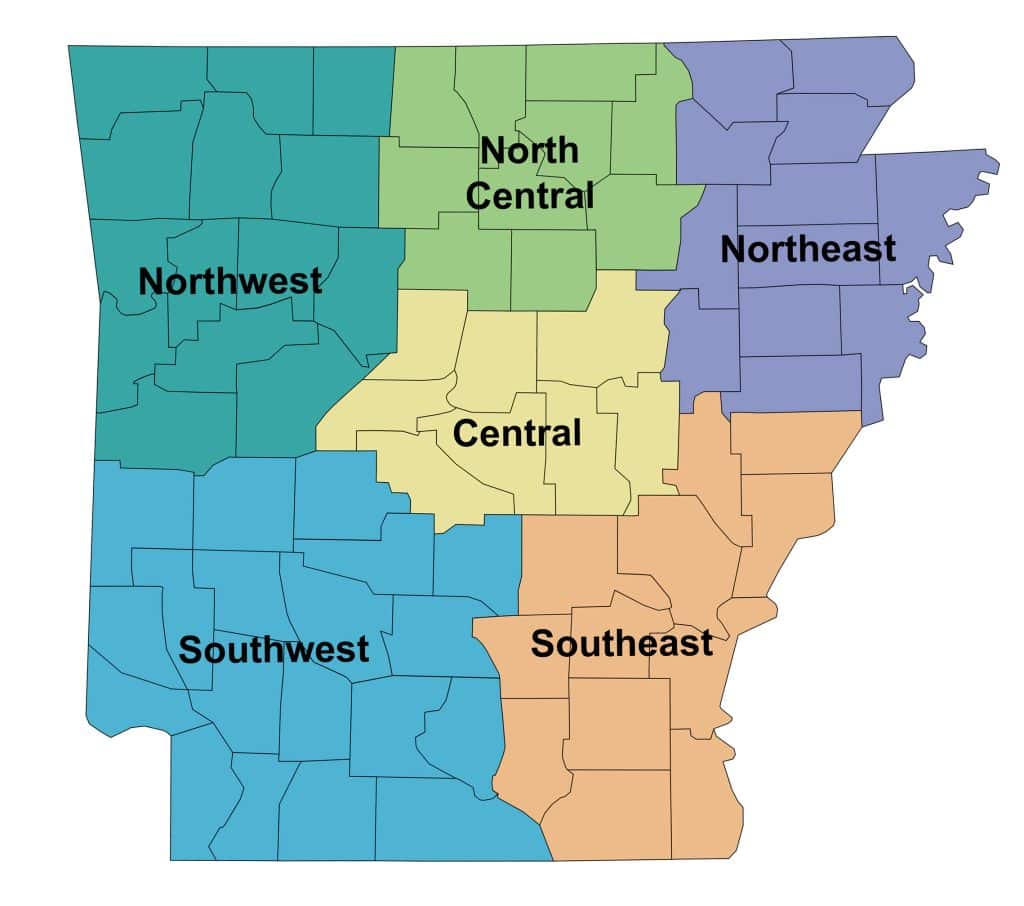 All About North Central Arkansas
State Parks
There are three unique state parks in this area of Arkansas.
Bull Shoals White River State Park
Bull Shoals White River State Park is an excellent state park for anglers, especially those who love to camp or RV. This campsite that sits right on the White River, just below Bull Shoals Lake and near Gaston's resort is a personal favorite.
Be sure and check out the huge visitor center on the hill above the dam.
Ozark Folk Center
The Ozark Folk Center is such a unique state park. Here you can learn all about the music, the crafts, and the culture of the Ozark Mountain people.
Artisans onsite will demonstrate crafts such as blacksmithing, quilt making, wool spinning, wood working and more. It is a fascinating place for the whole family. There is even live music throughout the day to help you learn more about the Ozark Mountain "sound."
Mammoth Spring State Park
As the name implies, Mammoth Spring is huge! This is one of the world's largest springs with nine million gallons of water flowing hourly. The spring forms the Spring River which runs through North Central Arkansas.
But there is more at this state park than just the spring. There is also an old train depot, a walking trail, picnic areas, playgrounds, and remnants of a mill.
Lakes in North Central Arkansas
Three of the best lakes in the state of Arkansas are located in this region. In addition to the larger lakes named here there are many small lakes in this area.
Bull Shoals Lake
Bull Shoals is the largest lake in Arkansas. It has over 1,000 miles of shoreline both in Arkansas and Missouri. Bull Shoals is renowned for bass fishing but is also a perfect getaway for boating and water sports.
Greer's Ferry Lake
Located near the town of Heber Springs, Greer's Ferry Lake is probably our favorite lake in the state. It is simply stunning. Gorgeous bluffs circle much of the lake which is dotted with pretty islands including one of the two Sugarloaf Mountains in the area.
It is also consistently listed as one of the top 10 cleanest lakes in the US.
Norfork Lake
Norfork is another one of the super clean lakes of North Central Arkansas. Norfork sits partially in Arkansas and partially in Missouri and is perfect for fishing and boating and water sports.
We also have a list of some of the other lovely recreational lakes in Arkansas.
Rivers in North Central Arkansas
These are a few of the rivers in this region, of course there are many other streams and creeks not named.
Buffalo River
When people think of the Buffalo National River they typically think of Northwest Arkansas. However the Buffalo flows into North Central Arkansas as well.
In fact, if you want to float the river during the summer months you will more than likely be floating in North Central Arkansas as the upper Buffalo River becomes too low to float as soon as the spring rains stop.
Little Red River
The Little Red River was once formed by tributaries or forks that formed in the northern part of the state and flowed through the region. After the completion of Greer's Ferry Dam near the town of Heber Springs the river now emerges clear and cold from the bottom of the lake where it becomes a perfect trout fishing stream.
Spring River
The Spring River is formed by Mammoth Spring in the northern section of North Central Arkansas. This means that it is always flowing and refreshingly cold even in the driest and hottest parts of summer. Because of this It is a very popular river for floating.
Strawberry River
The Strawberry River begins near the town of Salem and flows about 90 miles to the Black River. It starts off small but gets larger in the first 15 miles as the waters from numerous creeks and streams join it.
Some of the river is floatable and the waters have a pretty milky blue green tint like those of the Mulberry River in Northwestern Arkansas.
White River
The White River flows about 720 miles from Northwest Arkansas, up into Missouri for a bit, through North Central Arkansas then all the way to the Mississippi River in the Southeastern region of Arkansas.
The upper White River divides from what is considered to be the lower White River at the town of Batesville.
You will find all kinds of fishing on this river as it makes its way south. However, the section of river just below the Bull Shoals Lake dam is renowned for trout fishing.
Things to do in North Central Arkansas
As you can see there are plenty of outdoor activities in this area! You can visit state parks, boat on one of the lovely lakes, kayak or fish the rivers, but what are some other things to do in North Central Arkansas?
Here you go!
Go underground at the spectacular Blanchard Springs Caverns. This is an especially "cool" thing to do in the summer heat. The caverns are located near the town of fifty-six. (Yes, there are some interesting town names in the state of Arkansas.) Beautiful Mirror Lake and some fun swimming holes are also nearby.
Hear mountain music on the town square of Mountain View. This town is famous for preserving Ozark Mountain music. On nice weekends musicians gather on the square to play folk music together.
Stroll the charming town of Hardy, Arkansas. Hardy is situated on the Spring River and has a picture postcard downtown are filled with interesting shops and restaurants and even museums. They also have summer concerts and festivals.
The town of Heber Springs is the "jumping off point" for Greer's Ferry Lake. It also has some nice hiking including one of the two Sugarloaf mountains as well as Collins Creek Trail which leads past Collins Creek Cascade to the Little Red River.
Enjoy some sourdough bread from Serenity Farm Bread in the quaint town of Leslie. Leslie is full of character with old buildings, an amazing bakery, delicious restaurants, and some cute shops. It also has several music venues including the Ozark Heritage Arts Center.
Take a bite out of one of the biggest cinnamon rolls you've ever seen at Ferguson's Country Store and Restaurant…then head over to Coursey's for delicious smoked meat in the town of St. Joe.
Cities
Here are some of the cities in this region of Arkansas.
Batesville
Bull Shoals
Calico Rock
Cave City
Clinton
Evening Shade
Fairfield Bay
Greer's Ferry
Hardy
Horseshoe Bend
Leslie
Mammoth Springs
Marshall
Mountain Home
Mountain View
St. Joe
Shirley
Witts Springs
Yellville
Counties
Baxtor
Cleburne
Fulton
Independence
Izard
Marion
Searcy
Sharp
Stone
Van Buren
Hope that you enjoyed learning more about this amazing and unsung region of Arkansas.
Thanks for stopping by!