Southwest Arkansas is one of the most fascinating regions of the state. In fact, no other region has as much diversity in geography as this area. From mountains with diamond mines and hot springs to flat lands and chalk cliffs Southwest Arkansas is a unique place to explore.
In addition to SEVENTEEN wonderful state parks this area also has a quirky, but compelling national park. There are also lakes and rivers and interesting cities and towns.
Here is some more information about Southwest Arkansas.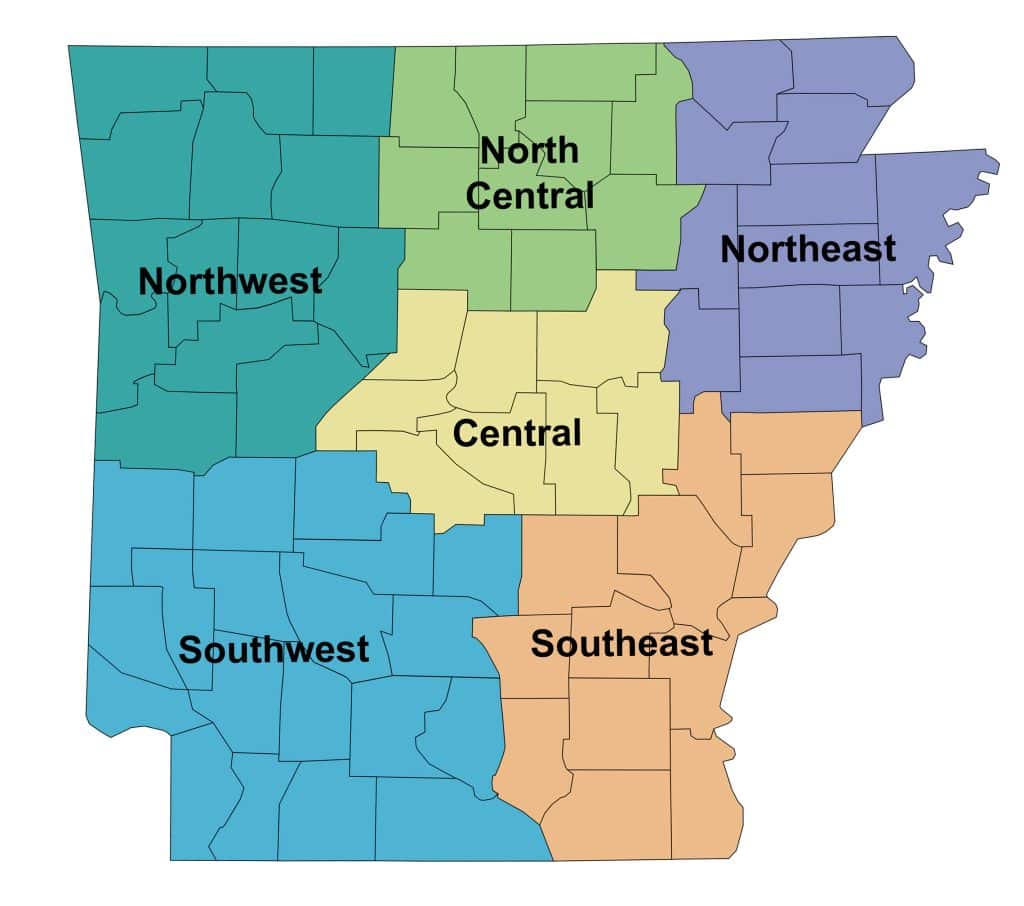 All About Southwest Arkansas
Hot Springs National Park
Hot Springs National Park is one of the smallest and quirkiest of all the national parks. This is a park that is steeped not just in the hot thermal waters but also in history and culture.
From the earliest times until today people have gathered here to bathe in the warm waters which were once believed to have healing properties. In Hot Springs National Park two of the grand bathhouses are still available for those who wish to take a dip in these mineral waters.
Another bathhouse has been turned into a brewery which not only uses the mineral waters to brew their beer but also happens to be the only brewery located inside of a national park.
And still another is a museum that allows you to see the bathhouses as they were in their heyday. One has been converted into a hotel. If you stay there you can bathe in the spring waters in the comfort of your own room.
There are even fountains in town from which you can fill up your own water bottles to drink the water at home. Yes, it is perfectly clean and full of healthy minerals.
In addition to the waters Hot Springs National Park has hiking trails, mountain views, and abundant creeks. All located near the town of Hot Springs which has many fun activities as well as some delicious restaurants.
State Parks
1. Queen Wilhelmina State Park
Queen Wilhelmina State Park beautifully combines history, trails, and views. It sits atop Rich Mountain which is one of the highest peaks in Arkansas, second only to Mount Magazine.
It is known for its beautiful lodge which provides a peaceful place to stay in the Ouachita Mountains. This state park is located near the lovely Talimena Scenic drive making it an especially perfect place to stop in the fall.
2. lake Ouachita State Park
Lake Ouachita is a gorgeous 40,000 acre lake in the Ouachita mountains of Southwest Arkansas. In addition to water sports, visitors to Lake Ouachita State Park can enjoy hiking, mountain biking, and camping. Some of the campsites are right on the water.
3. Lake Catherine State Park
Whether you want to go fishing, swimming, or just relax by the water, Lake Catherine State Park has got you covered. It has waterfront campsites as well as cabins, a nice little swimming beach, a children's playground and the only marina on the lake.
There are also some hiking trails including one that leads to a pretty waterfall during the rainy season. Guided horseback rides are also offered here.
4. DeGray Lake State Park Resort
DeGray Lake State Park has amazing accommodations. There is a lodge with stunning views of the lake as well as campsites and yurts.
Here you will also find tennis courts, swimming beaches, a championship golf course, a disc golf course, hiking trials, mountain biking trails, horseback riding, and more. The State Park has it all.
5. Daisy State Park
Daisy State Park is on the shores of Lake Greeson just near the Little Missouri River. This is a place to relax, to fish, and to camp. However, if you want to move a little faster there is also ATV riding on the Bear Cycle Trail.
Daisy State Park is near the Crater of Diamond State Park which does not have accommodations so this is a great place to stay if you plan to dig for diamonds.
6. Crater of Diamonds State Park
Want to dig for diamonds? Crater of Diamonds State Park is the only place in the US that you can do just that.
This park sits on the eroded surface of an ancient volcanic crater. You can bring your own digging tools or rent them from the park. Yes, diamonds are found here from time to time and you do get to keep anything that you might find.
7. Cossatot River state park – Natural Area
Cossatot River State Park and natural area is located on the scenic Cossatot River in Southwest Arkansas. The river is a popular destination for experienced kayakers and canoeists. During the rainy season it boasts Class IV rapids.
There are also some gorgeous hiking trials, fishing opportunities, and tent camping.
8. Millwood State Park
Quiet and serene Millwood State Park is situated on Millwood Lake. This is a lovely lake that is particularly known for bass fishing.
Birding is another popular activity in the park as the area has been designated by the Audubon Society as an important bird area. In fact, 300 of the 400 bird species in the state have been spotted here.
In addition to birds and fishing this is one of the best places in Arkansas to spot alligators!
9. Historic Washington State Park
Birthplace of the Bowie Knife and an important stop along the trail that led to Texas, Historic Washington State Park is a place that both locals and visitors to the southwest region of Arkansas should visit.
Here you can see the historic 1874 courthouse and other structures that make up what is considered to be one of the best-preserved examples of a 19th-century Arkansas River town.
10. White Oak Lake State Park
White Oak Lake State Park is another very quiet state park that is perfect for bird and wildlife watching. Many of the campsites are right on the lake and there is a dock for fishing as well as a marina with boat rentals.
It is near Poison Springs Battleground State Park and the interpretive display for that state park is in the White Oak Lake Visitor Center.
11. Poison Springs Battleground State Park
A Civil War battle began on April 18 near a place that locals called Poison Springs. At Poison Springs State Park you will find outdoor interpretive exhibits that explain what happened during the battle. There are also picnic sites, but no campsites as this park is for day use only.
12. Logoly State Park
Logoly State Park is near the quaint town of Magnolia. This was the first environmental education state park in Arkansas. This is a peaceful park that has old-growth forests, mineral springs, and interesting plant species.
Multiple trails enable visitors to learn more about the plants and animals of Arkansas.
13. Conway Cemetery
This is a small 11 acre park that is dedicated to the final resting place of James Sevier Conway. He became the first governor of Arkansas after it became a state on June 15, 1836,
14. White Oak Lake State Park
Mountain trails through marshlands give visitors a chance to spot various wildlife and birds in this quiet and peaceful state park. It is situated on White Oak Lake which is known for fishing. There is also camping and a mountain bike trail.
15. Jenkins Ferry BattlegrounD State Park
Thomas Jenkins owned the land and started the ferry that ran here in 1815. His sons, William and John DeKalb were running the ferry at the time of the Civil War battle that occurred here in 1861.
The Jenkins Ferry State Park has interpretive signs and picnic areas but is for day use only.
16. Arkansas Museum of Natural Resources
The Arkansas Museum of Natural Resources is a great place to learn all about the oil boom that started in Southwest Arkansas in the 1920's. It is near the town of Smackover which, as the name implies, was one of the early boom towns when oil was discovered in the area.
17. South Arkansas Arboretum
The South Arkansas Arboretum is a small but pretty state park. You won't need to spend much time here but it is a nice place to stop and walk the trails and see plants that are native to the West Gulf Coastal Plain.
The trails here are paved and marked and there is a restroom available.
As you can see there are MANY state parks in the southwest region of Arkansas. Here are some more things to do in this area.
Things to do in Southwest Arkansas
Visit Hot Spring National Park: Honestly, a trip to Hot Springs National Park is a must if you are in the region. Take a look through the various bathhouses, have a sip of the mineral waters, and perhaps take the time to have an old fashioned hot springs bath. There are also plenty of trails and even camping in the park.
Dig For Diamonds: There is only one place in the US where you can dig for diamonds and keep anything that you find. This is at the Crater of Diamonds State Park near the town of Murfreesboro. People don't find a diamond here everyday but it is still fun to dig in the dirt. And you never know, you might get lucky! More than 35,000 diamonds have been found since 1972.
See the Town of El Dorado and the Murphy Arts District: El Dorado is one of the most interesting small towns in this region. It is a must see in Southwest Arkansas and has been voted as having the "Best Small Town Cultural Scene in America." This is due, in large part, to the Murphy Arts District or MAD. The MAD covers over 10 square blocks and is home to a variety of venues and attractions, including a state-of-the-art performing arts center, a music hall, a brewery, several restaurants, and more. El Dorado is a gem of a place with music, arts, parks, and restaurants.
Spend time on one of the beautiful lakes: There are so many amazing lakes in Southwest Arkansas. Some are mostly for fishing while others are perfect for swimming, boating, and other water sports. The Diamond Lakes are 5 of the prettiest in the state!
Eat a watermelon from the town of Hope, Arkansas. Hope is famous for their watermelons. Something about the soil in that area grows huge and sweet watermelons. There is even a Hope Watermelon Festival that you can attend.
Step into the past at Mount Washington State Park. At this state park you can learn about the history of Arkansas. This historical site located in Southwest Arkansas features a restored historic village that includes buildings from the 19th century that showcase the lifestyle and architecture of early settlers in the area.
Try to spot a monster in the town of Fouke. The town of Fouke was famous for the spotting of the Fouke Monster in the 1970's and the subsequent movie about this monster called The Legend of Boggy Creek. The Fouke Monster is one of the most popular legends in the state.
Enjoy the charming town square in Magnolia, Arkansas. Magnolia Arkansas has one of the most charming town squares in the state. There is a lovely courthouse surrounded by shops and restaurants and decorated with colorful murals. You won't want to miss the Magnolia Blossom Festival and World's Championship Steak Cook-off which is an annual event in the month of May.
Soak in the beauty of tulips season at Garvan Woodland Gardens. Garvan Woodland Gardens is, in my opinion, one of the prettiest places in the state of Arkansas. It is gorgeous year round but when the tulips bloom in April the gardens are breathtaking and should not be missed.
Check out the Mena Depot Center. This historic train depot is the first place you should stop in the town of Mena. It was built in 1922 and allows the visitor to learn more about the history of the railroad in this area with their collection of railway memorabilia.
Lakes in Southwest Arkansas
There are SO many lakes in southwest Arkansas! If fishing, boating, swimming, or skiing are your thing then this is the place for you! The first five lakes on this list are called the Diamond Lakes.
Lake Ouachita
Lake Hamilton
DeGray Lake
Lake Catherine
Lake Greeson
Millwood Reservoir
Lake Erling
White Oak Lake
We also have a list of the other gorgeous recreational lakes in the rest of the state of Arkansas.
Rivers in Southwest Arkansas
Rivers are also abundant in this region of the state.
Ouachita River:
The Ouachita River starts in the Ouachita Mountains near town of Mena. It begins its path flowing through the mountain valleys and beneath mountain bluffs then winding up among the cypress trees in the swampy bottoms of southern Arkansas and then into Louisiana.
The Ouachita is known for great fishing and wildlife. Deer are prolific here and the occasional bear can also be seen. As the river runs into the flat southern rice fields and swamps it becomes a flyway for ducks and geese.
Caddo River
The Caddo is a tributary of the Ouachita and is a great floating river for paddlers of all skill levels. It is also a good river for tubing for those who would rather float than paddle. You can float certain sections of the river all summer but spring, when the water levels are higher, is best.
Cossatot River
The Cossatot River is known for having the most challenging white water in the state of Arkansas. In fact, much of the river is only recommended for experienced kayakers, canoeists, and rafters. Even if you aren't an experienced white water person this is a gorgeous river to visit.
And More:
Some of the other rivers that are in this part of the state are The Little Missouri River, The Red River, and the Fourche LaFave River. Of course there are also many other streams in this area.
Cities
Here are some of the cities in Southwest Arkansas.
Arkadelphia
Camden
DeQueen
Delight
El Dorado
Emerson
Fordyce
Fouke
Gurdon
Hope
Magnolia
Malvern
Mt. Ida
Murfreesboro
Sheridan
Smackover
Stamps
Texarkana
Washington
Counties
Calhoun
Clark
Columbia
Dallas
Columbia
Garland
Grant
Hempstead
Hot Spring
Howard
Lafayette
Little River
Miller
Montgomery
Nevada
Ouachita
Pike
Polk
Sevier
Union
I hope that you have enjoyed learning more about Southwest Arkansas. From the Ouachita Mountains to the pine forests to the flat and swampy rice fields this is a unique and fascinating region.
More About the Regions of Arkansas