Arkansas is divided into regions by location. Central Arkansas is not only situated in the center of the state, but is also home to the capitol city of Little Rock.
Central Arkansas also has the largest population of any of the regions in Arkansas which means that there are plenty of hospitals, businesses, restaurants, theater, music, and hotels.
Besides city life you will also discover some great state parks and opportunities to get out and experience nature in Central Arkansas!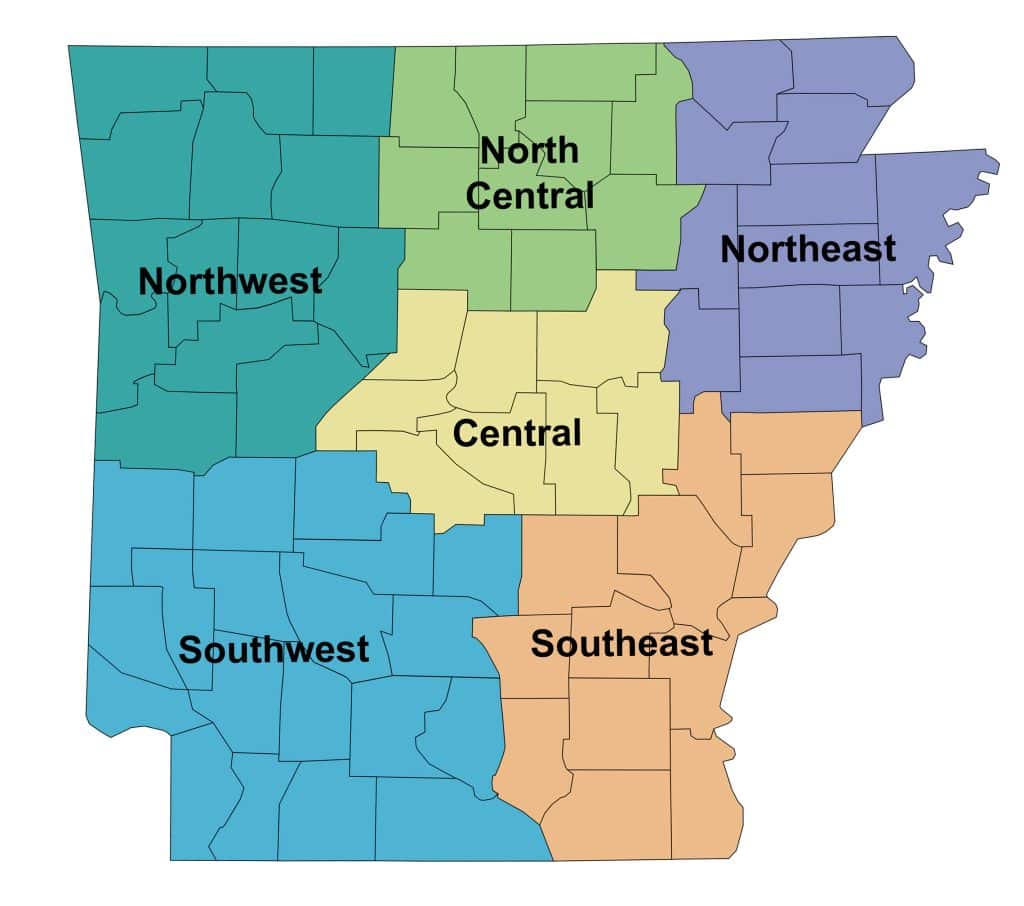 Things to do in Central Arkansas
Here are some of the great things to do in this region!
State Parks in Central Arkansas
Arkansas has 52 state parks, one for every week of the year. If you want to try to visit them all here is a scratch off map that would be fun to use to keep track.
These are the 5 state parks that are located in the central region of the state.
Petit Jean Mountain State Park
Petit Jean Mountain State Park is one of the premiere state parks in Arkansas. This gorgeous park has it all. Seven Hollows trail is one of our favorite hiking trails in the state. Cedar Falls is a popular and beautiful hike with a stunning waterfall.
In addition to great hiking Petit Jean has a lovely stone CCC built lodge with 24 rooms and a restaurant. Or you can stay at cabins with a view, a yurt, or one of the many camp sites.
There is so much more to do here. You will love this state park!
Pinnacle Mountain State Park
Pinnacle Mountain State Park almost acts as the backyard of Little Rock.
This is a day use only park where you can climb a steep mountain with glorious views or walk alongside a river. Be sure to visit the park's visitor center to learn about some of the interpretive programs offered there.
Plantation Agricultural Museum
The Plantation Agriculture Museum is located in the town of Scott, Arkansas in Lonoke and Pulaski Counties. This is an interactive museum where you will learn about the farming history of Arkansas.
Plum Bayou Mounds Archeological State Park
Plum Bayou Mounds State Park was formerly called the Toltec Mounds State Park. You might still hear locals use the older name.
This park is the location of the largest and most complex Native American mound site in the state.
Woolly Hollow State Park
In the town of Greenbrier which is just north of Conway you will find Woolly Hollow State Park. In my opinion this is a wonderful state park for when the weather is hot because it has a lake. The forty acre
Lake Bennett has fishing, boating, and during the summer months there is even a snack bar and a lifeguarded swimming beach. You will also find mountain biking, campsites, a bathhouse, some nice hiking trails, and the historic one room homestead of the Woolly family.
Lakes in Central Arkansas
Central Arkansas doesn't have as many large recreational lakes as other parts of the state but here are some notable ones.
Lake Maumelle
This pretty lake is only about 10 miles from Little Rock. This 8,900 acre lake also happens to be the main water supply for the city of Little Rock. Because of this fishing, kayaking, and sailing are allowed but there is no swimming.
There are some trails that you can hike for some pretty views of the lake.
Lake Conway
6,700 acre Lake Conway is the largest game and fish commission created lake in the US. It is known for bass and crappie fishing as well as bluegills and bream.
Lake Bennett
Lake Bennett was mentioned above as part of Woolly Hollow State Park. This is a great summer swimming lake.
Lake Sylvia
Lake Sylvia is a small lake only about 35 miles from Little Rock. There are some nice campsites here, several trails, and the lake has a swim platform and swimming beach.
Rivers in Central Arkansas
Of course there is the Arkansas River which is a main feature of the area.
The Saline River flows from just north of Benton to the Ouachita River near the Louisiana border. It is a hidden gem in the state.
Things to do In Little Rock and North Little Rock
Here are some of the best things to do in the most populated areas of Little Rock and North Little Rock
Things to do In the Rest of Central Arkansas
More Information About Central Arkansas
Cities in the Region
Besides Little Rock some of the other cities in Central Arkansas are:
Bald Knob
Bauxite
Beebe
Benton
Bigelow
Bryant
Cabot
Carlisle
Conway
Des Arc
Jacksonville
Lonoke
Morrilton
North Little Rock
Romance
Searcy
Counties
There are 8 counties in this region which are:
Pulaski County
Saline County
Perry County
Conway County
Faulkner County
White County
Prairie County
Lonoke County
I hope that you enjoyed this look at this region of Arkansas. Central Arkansas is my home and a wonderful place to live!
Thanks for stopping by!